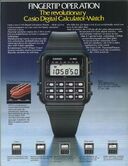 The watch appears to tell the time of your computer's internal clock, much like the Radio Clock found during all operations and Reception.
The watch will be ejected upon contact with any movable object.

This is a reference to Nigel losing his watch in real-life a lot. He also posted it on his official blog.
The watch might still be stuck on your hand after ejection and will reduce the speed of moving your hand and wrist or even prevent it.
Ad blocker interference detected!
Wikia is a free-to-use site that makes money from advertising. We have a modified experience for viewers using ad blockers

Wikia is not accessible if you've made further modifications. Remove the custom ad blocker rule(s) and the page will load as expected.