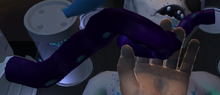 The Birgirspallex is one of the alien organs featured in the secret outer space missions of  Surgeon Simulator.
It is a dark blue tube that appears similar to a human large intestine and is found in the lower abdomen of the alien. It is connected to the liver-like Robbaloraz.
Etymology
Edit
The Birgirspallex gets its name from Birgirpall, an Icelandic YouTuber who makes comedic videos about various video games. One popular video (see "I Broke Surgeon Simulator") features him and his friend Banzaii playing Surgeon Simulator in a style similar to Michael Jones and Gavin Free of Achievement Hunter, with one player controlling the mouse/hand and the other controlling the keyboard/fingers.
In the touch game, the Robbaloraz and Birgirspallex have switched names.
Ad blocker interference detected!
Wikia is a free-to-use site that makes money from advertising. We have a modified experience for viewers using ad blockers

Wikia is not accessible if you've made further modifications. Remove the custom ad blocker rule(s) and the page will load as expected.