Alien Surgery
Comment

1
74pages on
this wiki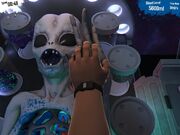 Alien Surgery is a secret surgery which was added with the update on September 9, 2013. The Alien is a new character and the second replacement of Bob.
To reach the Alien Surgery you'll need to put in the new VHS. To unlock the VHS you need to finish all surgeries and really look into your stuff. It contains some well hidden hints and puzzles you have to solve to get the VHS.
How to unlock the alien surgery VHS
Edit
SPOILER ALERT:

————————————————————————
If you want to search it yourself (cause it's a really tough challenge to find it), please DON'T click on "Enter The Code"!!
————————————————————————
Follow the instructions of the achievement "Enter The Code".

After that you'll get a new VHS on you main menu desk with some alien symbols written on it.
The Transplants Organs
Edit
You enter the surgery and you're suddenly told to do a Pewdsball or a Gobbleshaft Transplant. There is no dictionary and there are no hints which of these organs is what you need, so here is a list of all the possible transplants and how the organs look like.
Finishing all 6 transplants unlocks the achievement "Best Surgeon In The Universe".
Each alien organ's name has a reference to a Youtuber who has played Surgeon Simulator 2013.
If you cut out the Gobbleshaft improperly, it starts moving on its own and makes noises while floating around. Cutting it out clean leaves it asleep.
When you touch the Gavichal with bare hands it drugs you too. This is a reference to the numerous times Michael and Gavin drugged themselves attempting surgeries.